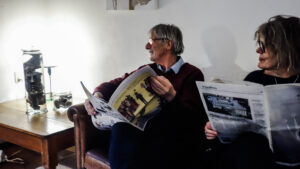 How a visit to an exhibition of Caspar Berger brought a work of art by him into my home.
A few years ago a friend took me to an exhibition of Caspar Berger, an artist who was unknown to me at the time. I also met the artist himself and we started talking. Now I have always learned and believed that artists cannot really talk about their work; but in this conversation, that was not the case. What Caspar Berger told was a lucid story that did not so much "explain" the work as run parallel to it. Both story and work remained autonomous.
Since then I have looked at Caspar Berger's work and exhibitions wherever I could.
So I was delighted recently when Caspar Berger came riding my way with one of his works of art that was allowed to stay with me for two months. It was a gift from the friend who took me along at the time!
The initiative 'The Art Guest'  is not only pleasant for the host, it is also a great initiative when it comes to strengthening if not restoring the relationship between art and the public. Art – and artists – are also isolated in this period of corona.
And as befits a good lodger, this Art Guest is already a member of the family.
Frans