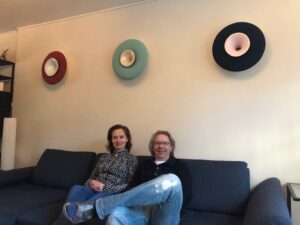 At last a work by Pierluigi Pompei in our home.
I have known Pierluigi Pompei and his work for some time. We are both trumpet players and play together in a Big Band (with which we played during the unveiling of his artwork "the Maashoorn" in Schiedam). Because of our shared interest in music, I have for some time been interested in his work in which he combines his sculptures and music in various ways. Thanks to The Art Guest initiative, I can finally enjoy his work "Duo Voices" at home, which is now temporarily staying in our living room.
Every day when I come home I am happy to see his beautiful work hanging in my house.
Thanks Pierluigi and thanks to The Art Guest!
Ton