With the introduction of De Kunst Gast, The Art Guest, platform Art is A Guaranty wanted to bring some relief to people at home during the second lockdown period in 2021. At the same time The Art Guest offered the possibility to make a direct financial contribution to the source, the artist.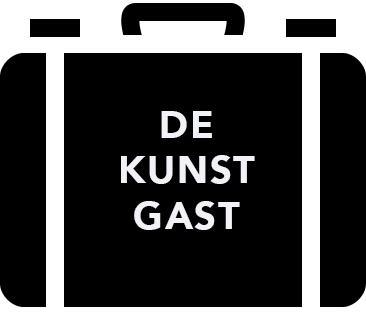 In the Netherlands all kinds of regulations happened. Only essential shops stayed open, no museums, theaters or cinemas were allowed to be open and one could only order online and had this delivered at home. Meeting each other online remained a godsend for many things, but there was also a great need for something real. So we invented: De Kunst Gast/The Art Guest.
The Art Guest offered works of art that were guests in people's homes. With the introduction of The Art Guest we hoped to soften and fill the metaphorically empty space in the houses created by the Corona. A work of art that stayed as a guest in your home.
The difference between The Art Guest and an Art library.
The Art Guest established a direct contact between the artist, his/her work and the viewer. An Art Guest was much more than a choice from countless works of art: the host deliberately choose a work of art from a clear selection made by the artist him- or herself and which will be given specific attention by the viewer for a short period of time. The intimacy between the Art Guest and the person who made a special place for the guest in his/her home resulted in a special dialogue about viewing and experiencing. The artist was very willing to participate in this exchange.
Once the Art Guest had arrived, it stayed with the host for two months. This worked as a counterbalance to all the virtual violence of the online presentations. The Art Guest kept the host company in a different way, brought inspiration, beauty, a thought, warmth or it even provided the occasion for a good conversation. The Art Guest was ordered for someone personal, but it was also ordered for someone else, as a gift.
The Art Guest created direct contact between Host and Artist.
Art is A Guaranty took care of the direct connecting contact between the host and the relevant artist, practical arrangements were discussed together, such as whether the Art Guest was picked up or delivered to the home, perhaps even whether the selected Art Guest needed to be installed at home.
Of course all the corona proof and all RIVM guidelines were followed. The invited Art Guest was insured 'nail to nail' by Aon insurances.
For having the Art Guest at home, the artist was paid a fee of 225 Euros including VAT. In addition, a fixed amount at cost price was agreed upon for any transport, both back and forth.